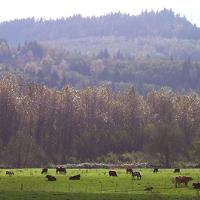 Skiyou Ranch
Contact: Tarie Benson
Address: 26910 Duffy Road Sedro Woolley, WA, 98284
Phone: 360-708-3292
About Us


Skiyou Ranch is a 4th generation family farm promoting healthy animals in a sustainable environment. Our Farm raises 100% Certified Organic Grass Fed Black Angus Beef . We take pride in what we do and are proud to share our Beef with the local community to enjoy as we have for generations .
Practices
All our animals are born and raised on the farm. Our priority is the humane treatment and care of our animals . Being Certified Organic promotes our mission for granting the animals a safe , secure and sustainable environment. Our goal is to provide a calm setting for all animals for a back to nature appeal . Natures way is the best way "Stress Free" We use no antibiotics and or pesticides or herbicides , we are chemical free. All animals are hormone and Antibiotic free.
We also are proud to say that we are participants in the Washington State Backyard Sanctuary and the National Wildlife Federation Certification as a Wildlife Habitat. We provide the four basic Habitat elements needed for Wildlife to thrive , not only do we take care of our animals , we take care of "all" animals .