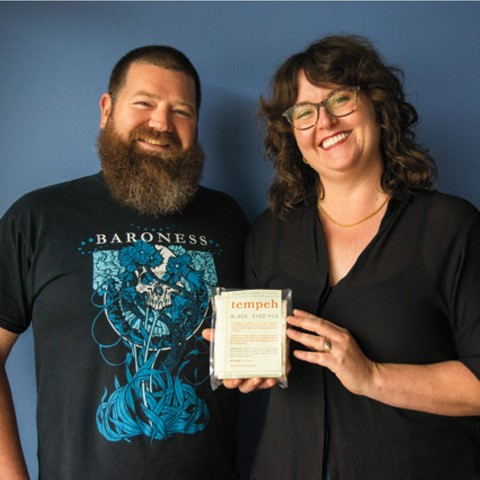 Thoroughfare
Contact: Michael Houder & Alice Mayeron
Address: 2801 Donovan Ave Bellingham, WA, 98225
Phone: 352-262-1479
About Us
WE ARE ALICE + MIKE. OUR LIVES HAVE ALWAYS REVOLVED AROUND FOOD AND AFTER DECADES SPENT IN THE RESTAURANT INDUSTRY IT IS A DREAM COME TRUE TO BE STRIKING OUT ON OUR OWN WITH THOROUGH//FARE.

WE KNOW WHAT GOOD FOOD IS CAPABLE OF. IT CAN SATISFY, DELIGHT AND COMFORT. THAT IS WHY WE WANT TO MAKE PRODUCTS THAT PEOPLE CAN COUNT ON TO SERVE THEMSELVES AND THE GREATER GOOD. EVERYONE SHOULD HAVE ACCESS TO AFFORDABLE, QUALITY SUSTENANCE THAT GIVES MORE THAN IT TAKES.

OUR MOTTO IS GOOD FOOD FOR THE LONG HAUL AND WE HOPE YOU'LL COME ALONG FOR THE RIDE.
Practices
we are happy to say that our tempeh is:

NATURALLY VEGAN
MADE WITH ORGANIC INGREDIENTS
FREE OF SOY, GLUTEN, NUTS, SODIUM AND DAIRY*

* WE WORK IN A COMMISSARY KITCHEN THAT UTILIZES FLOUR AND NUTS BUT MAKE A CONSIDERABLE EFFORT TO PRODUCE OUR TEMPEH WHEN THOSE ALLERGENS ARE NOT PRESENT TO TRY AND LIMIT CROSS-CONTAMINATION.

thoroughfare tempeh is made with four simple ingredients:

ORGANIC LEGUMES
ORGANIC RICE VINEGAR
LACTIC ACID (VEGAN)
RHIZOPUS OLIGOSPORUS CULTURE*

WHILE WE ARE NOT CERTIFIED ORGANIC, ALL OF OUR INGREDIENTS ARE. WE COOK OUR BEANS IN REVERSE OSMOSIS FILTERED WATER BEFORE CULTURING THEM AND LETTING THE MYCELIUM TAKE HOLD IN OUR TEMPERATURE-CONTROLLED INCUBATOR.

*THIS IS THE AMAZING FUNGHI THAT BINDS OUR BEANS. IT IS GROWN ON RICE BEFORE BEING GROUND INTO A POWDER.