Producer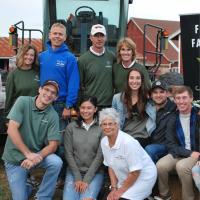 Ferndale Farmstead
Address: 2780 Aldergrove rd Ferndale, WA, 98248
Phone: 509-840-4788
About Us
Within the heart of the Pacific Northwest, in Washington state, three generations of the Wavrin family are proud to present artisan cheese crafted in the Italian tradition. This happens on our farm in Ferndale. We use only milk we produce from cows we raise, fed from the crops that we grow. We make authentic heritage cheese from Italy, our cheeses come to life under the principles of old-world cheesemaking, with a focus always on purity and flavor. All handmade in a closed-loop system, seed to cheese- From our farm to your table!
Practices
Our philosophy is:

From the SEED in our SOIL to the GRASS in our FIELDS to FEED our cows that we MILK to make the CHEESE on your TABLE!

Our Seed-to-Cheese process is an important part of our value system. Ferndale Farmstead is truly sustainable, in that we grow our own feed used to nurture our own cattle on the same place where the milk from those cows is turned into our cheese. This is all in our hands, and we put the utmost care into each step so that you can be sure the cheese was crafted pure, from seed... to your table.