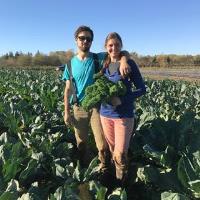 The Crows Farm
Contact: Matthew & Giana
Address: PO Box 62 Bow, Wa, 98232
Phone: 802-324-8847
About Us
The vision of The Crows farm started several years ago in Burlington, Vermont where we met while working at a farm to table Trattoria. The restaurant had a sizeable garden space devoted to Italian heirloom specialty crops, in which we had the privilege of managing. Matthew also worked as a cook and Giana in the front of the house. Seeking milder climates, we decided to follow our dreams and relocate to the West. Matthew has a degree in Environmental Studies and several years of experience cooking in fine dining restaurants. Giana has a degree in Nutrition, Food Systems and studied Permaculture Design. Combined, our unique backgrounds give us the diverse skills, passion and hard work ethic to operate our small farm and accomplish our goal of producing high quality and nutrient dense food.
Our farm is currently located at Viva Farms where we grow a wide selection of fresh culinary herbs, Italian crops such as, fennel, chicories, radicchio, heirloom tomatoes, as well as fall brassicas and winter squash.
Practices
We are Certified Organic through Oregon Tilth. The quality of our produce starts with our soil. We practice crop rotations to eliminate disease pressure and plant cover crops to add nutrients and maintain healthy soil structure throughout the year. Beneficial insects and pollinators are attracted to our fields, mainly due to our diverse fresh cut herbs and flowers, which allows our farm to maintain a balanced ecosystem. We take pride in our role as environmental stewards for our small farm. The Puget Sound Food Hub enables us to reduce our carbon footprint while reaching expansive markets.